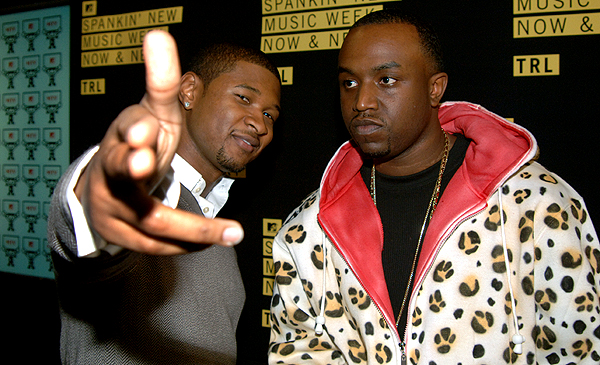 2010 was one of Usher's strongest years to date, but it was even better for his secret weapon Rico Love. The songwriter/performer got his first writing credit from Ursh after penning the cut "Throwback" off 2004's multiplatinum Confessions, and after years of building his brand and writing hits for stars ranging from Beyonce to Nelly, he came full circle by penning a handful of bangers included on '09's Raymond vs. Raymond and this year's Versus EP.
Outside of the Raymond galaxy, Richard Butler, Jr. has been moonlighting as a businessman and rapper. The budding entrepreneur enlisted former Def Jam rapper Young Chris as the flagship artist for his Division 1 imprint, recently adding Cherlise and Sophie Green to the roster. And on the musical tip, he's dropped in on songs by Jamie Foxx and Rich Boy, confirming his spit skills are as tight as his pen game.
And he's not slowing down anytime soon. Speaking with YRB, Rico Love discussed how Usher first put him in the songwriting lane, how haters told him not to touch a Nelly project (and how he silenced them all), how progress is coming along on the next Usher album, who he things is on the rise in the songwriting circuit and why Rico Love is more than just a name recurring in liner notes.
YRB: First off, how did you get your start in the game?
Rico: I started off as a rapper. I was signed to Usher's label, US Records, and I guess Usher saw something special in how I would write rhymes and how I would put songs together. So one day I went to his office and my financial situation wasn't at its best, so I needed some money. Like, what am I gonna do? He says, "I think you got the ability to write songs and I'm putting out an album called Confessions. You should write a song on this album. It's going to be one of my biggest albums." He gave me a track that Just Blaze produced, and I wrote a song called "Throwback." It's the first song I ever wrote in my life. That song ended up being one of the staples on the album, and I co-wrote a song called "Seduction," which was also on the album, on the deluxe package. That's how I pretty much got my start in songwriting.
YRB: It's funny that you started out as a rapper and ended up mostly writing R&B. Did you see yourself going in that direction?
Rico: No, I never did. But I could see why. I always had a strong love for R&B. For me, to be able to write and arrange and sing as well as I do, it actually comes from a genuine love for the art and for the genre. I've had a lot of success with crossover R&B and top 40 records as well, but I just feel that my love for music and my ability to adapt and to understand and translate different forms and types of music, it's really what brought me here. So I always had a love for it, and when it did happen, I thought it made a lot of sense because I always was into different types of music and be arranging songs in my mind, not knowing what I was going to be doing.
YRB: Your name isn't really Rico Love. Where did the nickname come from?
Rico: In Harlem, this lady in my grandmother's building, she would call me Rico. My name is Richard, but she would call me Rico because she said my skin was chocolate and rich. So she called me Rico.
YRB: You've worked with a who's who of urban artists. Which musician is the easiest to work with?
Rico: Usher and Beyonce. Those two. Vocally, they just understand and adapt to the records so easily. They get it. They understand how a song should be translated, a feel, a vibe, melodically, where it should go. They just get it. Some people get it. Also, this week I've been working with Mario and Mario gets it. He's one of those singers that when he's in the booth, he can translate the emotion that you really want to convey on the record, the way you wrote it. He understands that instantly, and I don't have to explain it too much.
YRB: Do you think that comes with experience? All of those artists have had lengthy careers.
Rico: Nah, this is something you have. I work with artists who have been in the game way longer than those singers and they don't get it as well. Like, watching Michael Jackson as a kid, you don't think he got that from experience. He was born with that. Some things you can learn. I taught myself how to sing. But to execute the records the way I do is something I was born with.
YRB: On the flipside, what was the hardest session you've had?
Rico: I really don't have any, because I don't write with anybody. I don't write with artists. I don't do co-writes. I just go in there and write by myself, and it's really quick. I've never taken longer than 10 to 20 minutes to write a song. And it's not a speed game. It's definitely not a race. I'm not trying to say I'm the fastest writer in the world. But it's just my process. I came from a hip-hop background, and I come from feeling the music. I feel like you can feel music, you can't think it. It's the way when music plays, if I feel something to it, it's instantly. When I do the records, it's kind of quick and painless and I'll give it to an artist. I mean, everybody has a bad day, so I'm not going to come down on people when it's not the best vibe. But I feel like my energy is so positive and I'm such a professional, it's kind of hard to really have a bad session. Nothing's impossible, but I do my best to control the room. Plus, I have a huge personality and a lot of times, artists have a certain respect for me because I demand that kind of respect in the most genuine and positive way.
YRB: Do you like speaking with the artist before collaborating?
Rico: Nah, I usually just kind of get an idea of what they're doing. Unless it's a brand new artist. Artists like Beyonce and Usher and Brandy and Fantasia and Mario, you kind of pretty much know as a fan what you want them to sing and how you want them to sing it. I'm a fan just like everyone else is. I just have the ability to write the song for them. So from the aspect of a fan's standpoint, I think, "What would I want them to hear? What was my favorite record from them? And how can I make this my own? How can I make the Rico Love version of my favorite song of theirs?" Not necessarily the tempo, not necessarily the concept, but how I felt when I heard my favorite song of theirs and how to create that in my own way.
YRB: What would you consider the most personal song you've written for someone?
Rico: Honestly, I don't write songs based on life experiences. I've seen that things I have written about have happened to me afterwards. It's like somebody who paints a picture or writes a comic book. Obviously, X-Men don't really exist, but you use your imagination to create something that you think will capture people. So when I write a song about a breakup or being heartbroken, it's not because I've had my heart broken before. You try to imagine how someone would feel, and then I try to come up with a creative way to translate it so they can relate. And it's about challenging yourself to see if you can capture the listener, and how you can affect them. I want to see people's reactions. I want people to be emotionally attached to the songs. I love when I'm at a concert and I see people singing "There Goes My Baby." It does something to me more than money.
YRB: So you keep fans in mind while writing a song?
Rico: Yeah. The way you hear the artist sing it, I already sang it that way. So when I get that feeling, I know how I feel while I'm listening to it and that's how I would want them to feel.
YRB: Which producers and songwriters are you feeling at the moment?
Rico: I definitely love Ne-Yo. I love Ester Dean, The-Dream, Stacy Barthe… Other people like R. Kelly, who is so consistent. Chris Brown is dope too, I really like his songs right now. He's writing dope songs, so that's just to name a few.
YRB: Who's coming up right now that people should know about?
Rico: A girl by the name of Jessyca Wilson. Her Twitter is @JessyWilsing. She's really dope. I think she's going to be one of those people who comes out and really does her thing.
YRB: You started stepping out from behind the boards and into the spotlight. Are you consciously making that transition now to being on the songs?
Rico: Obviously, I want to brand my name and brand myself. I looked up to Puff [Daddy] growing up my whole life, so I definitely wanted to base my career behind the whole Bad Boy label and what he did to brand his whole self and company and musical industry. I don't plan on putting out an album, but I have a voice that's very distinctive. I have a style, the way I translate things, it's very distinctive. So I definitely don't want to neglect that. I'll lend my voice to something for the vibe of it. It's about branding and building that maximum exposure for myself and my company.
YRB: Speaking of your company, you just signed Young Chris as the first artist to your Division 1 imprint. What made you pick him?
Rico: Actually, he was one of my favorite rappers when I was a rapper, and he was one of the guys who I saw as my competition when I was an artist. Just the fact that he's been doing what he's been doing for a long time. He got signed when he was 15 years old. Being from that Roc-A-Fella era, I feel that he deserved a shot. Being caught up in the breakup of Roc-A-Fella, Jay and Dame split and Jay signed him to a solo deal at Def Jam and Jay left Def Jam and had to leave him there. There was so much going on, so when he got freed up, I just felt like he's so talented that he deserves a shot. I was like, yo, I want to sign him. It's the first executive decision that I made and I feel like I made a great decision. The kind of feedback we got from the internet just from the mixtape, the song is blowing up and I'm excited for him to finally get an opportunity.
YRB: What sort of stuff are you guys working on right now? His next album?
Rico: Yeah yeah. I've been working on the album. Me and him haven't been in yet to start the album yet, because he's been doing a lot of stuff for his mixtape The Reintroduction, but I've been working on songs already for the album. And it's great working with him, because I can just write hook ideas, and he can come in and put verses on them. We have a great vibe and great chemistry, so it's a lot of fun. But I'm going to really start going in on the album in mid-January.
YRB: Who else are you thinking about signing or have already signed to D1?
Rico: I've got two female artists and an R&B male act. A female artist is Cherlise, an R&B singer from Miami, and another artist by the name of Sophie Green who's from Washington, D.C. but lives in Brooklyn. Sophie's style is just all over the place. It's hard for me to just pinpoint… I'd say she's the female version of Rico Love, but if she feels like rapping, she'll rap. If she feels like singing, she sings. She's got so much energy and she's such a fly chick. She's a fashionista. So she's one of the most glamorous, flyest, well-dressed people I know in the world, and I feel like she just translates that to her music. It's almost like supermodel music, I would call it.
YRB: What do you look for when you're scouting new talent?
Rico: First and foremost, they've got to be a superstar. They've got to have a personality that people want to attach themselves to. I believe an artist has to be someone that kids can admire and want to be like and want to be around. The thing I love the most about female artists is that a girl wants to be Beyonce more than she wants to be with Jay-Z. I just try to find that girl that a guy would want to be with and that the girls would want to be.
YRB: 2010 was a big year for you. What would you consider as the ultimate highlight?
Rico: The Nelly record ["Just a Dream"] blowing up and proving everybody wrong who doubted. Everybody told me not to touch Nelly's project, that it was just a waste of time and that it was over. And to just do things that I believe in is something that I've always prided myself on. To see that success and to see him get that bounce back was just the ultimate climax of my year.
YRB: I'm sure you've been putting in work with a lot of artists. Where are we going to see your name pop up in the credits in 2011?

Rico: Everywhere. I have all the releases before 2011. Diddy-Dirty Money's Last Train to Paris, Jamie Foxx's Best Night of My Life, Keri Hilson's No Boys Allowed… Just to be involved in all of these projects that's coming out at the top of the year. We got Mario, Pleasure P, another Usher album dropping this year, Divison 1 launching, Young Chris' album coming out this year, and I'm trying to get Cherlise's album out this year. Not to mention the Kelly Rowland album, another Nelly album… Just staying busy and working on everything.
YRB: Another Nelly and Usher album?
Rico: I just started doing records for Usher and Nelly, so we really haven't gone in the studio and come up with anything. I've just been working on songs. I played a few for Usher that he loves. I just don't want to stop. I want to keep it going and continue to keep that momentum. Another thousand kids are gunning for my spot right now, so I'm not going to give it to them.
YRB: What kind of stuff are you cooking up for Usher?
Rico: I just feel like Usher has a classic sound and music that doesn't age. So it's not about really… It doesn't matter if his music came out this year or 10 years from now. Same thing with "U Got It Bad," same thing with "You Make Me Wanna." I just want to make sure we can keep that classic sound. Some artists like Nelly and Usher and Diddy, they have a classic sound. You have to stick to it.