| | |
| --- | --- |
| Written By: Valentina | |
Justin Bieber and Usher both want to work with Cheryl Cole, says Will I Am.
Will I Am says "Justin is a big fan of Cheryl, Usher tells me, so if we can find the right collaboration for them then it's a real possibility".
Will I Am has contacts in all the right places and suggested that she and good friend Usher may be making records together in the future. 'Usher knows her and he likes her" he revealed.
Justin Bieber et Usher veulent tous les deux travailler avec Cheryl Cole, selon Will I Am.
Will I Am a dit "Justin est un grand fan de Cheryl, me dit Usher, donc si nous pouvons trouver la bonne collaboration pour eux alors c'est une réelle possibilité".
Will I Am  a des contacts dans tous les bons endroits et il a suggéré qu'elle et son bon pote Usher pourraient enregistrer ensemble à l'avenir. "Usher la connait et l'apprécie", a-t-il continué.
Souce anglaise ; source française
| | |
| --- | --- |
| Written By: Ry | |
| | |
| --- | --- |
| Written By: Ry | |
>
Cheryl Cole could work with Usher soon. According to Will.I.Am, one of her close friend, Cheryl would be ready to move to the States, in order to launch her career music there.
Indeed,

Will.I.Am

says that there's still a chance for her to relaunch her career through the States.
« She always comes back stronger, and she always comes back bigger.

Cheryl

has been through rougher things than this, so this is going to be no problem for her. »

Moreover, he's pretty sure that she has still a chance to convince the States and americans.

«

The X Factor

is not the only way for

Cheryl

to break the US, it's not like it's the only show on television. »

Finally, he wanted us to remember that «

Cheryl

is a recording artist. ». For him, on the next few months which are coming, «

she's potentially going to be working with artists like Rihanna, Katy Perry, Usher, and of course the Peas

. ».
—–
Cheryl Cole pourrait travailler avec Usher prochainement. Selon Will.I.Am, un de ses plus proche ami, Cheryl serait prête d'aller aux États-Unis, dans le but de lancer sa carrière musicale là-bas.
En effet,

Will.I.Am

a dit qu'il restait encore une chance pour elle de relancer sa carrière par le biais des USA.
« Elle revient toujours plus forte, et elle revient toujours plus grande.

Cheryl

a déjà eu recourt à des choses plus rudes que ça, alors ce ne va pas être un problème pour elle. »

De plus, il est pratiquement sûr qu'il lui reste encore une chance de convaincre les USA et les américains.

« "

The X Factor

" n'est pas la seule manière pour

Cheryl

de faire craquer les USA, ce n'est pas comme si c'était la seule émission télévisée. »

Enfin, il a voulu nous rappeler que «

Cheryl

est une "artiste d'enregistrement". » Pour lui, au cours des prochains mois qui arrivent, « e

lle est potentiellement en passe de travailler avec des artistes comme Rihanna, Katy Perry, Usher et bien évidemment, les Black Eyed Peas

. »
Affaire à suivre.
| | |
| --- | --- |
| Written By: Ry | |
| | |
| --- | --- |
| Written By: Ry | |
>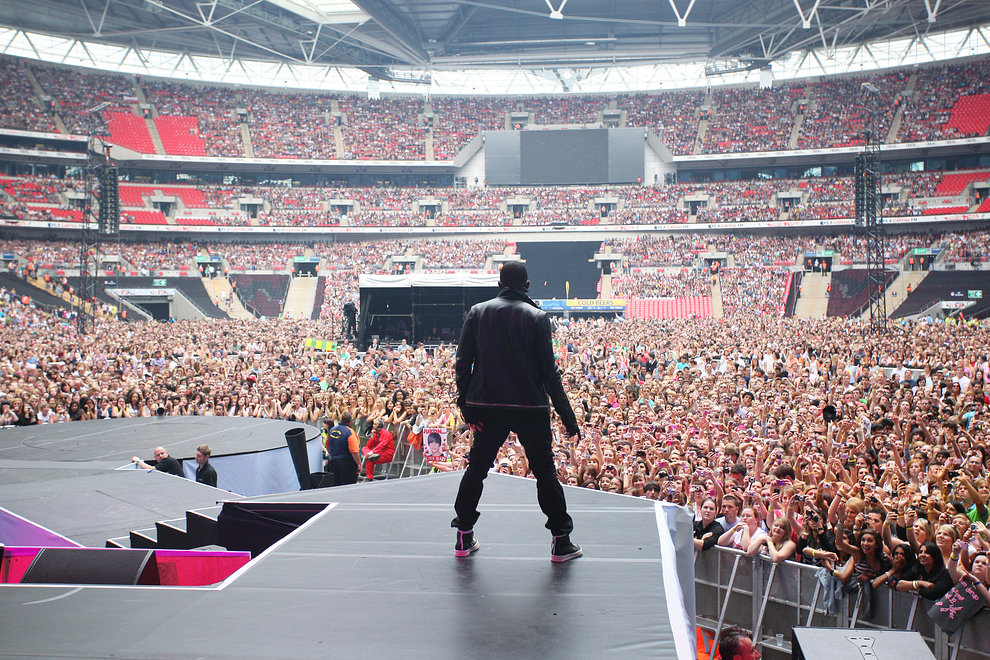 Watch the videos after the jump/Regardez les videos en cliquant sur "Read More"
OMG with Will I Am& Justin Bieber! Pop Icons + Pop Future!


| | |
| --- | --- |
| Written By: Ry | |
>Usher &Will I Am, grâce à OMG se placent en tête des ventes de singles dans le MONDE.Il s'agit du second tube  d'Usher qui se place à la tête des charts mondiaux, après Yeah! en 2004 qui était resté en pôle position pendant 8 semaines!








Usher & Will I Am are dominating this week Global World Charts!

"With a little help from Black Eyed Peas member Will.I.Am, Usher climbs to the top spot of the track chart. 'OMG' rises from no.3 to no.1 after 5 weeks on the hitlist and becomes the fastest growing track at the moment (up 22% to 318.000 points). 'OMG' is Usher's second global chart-topper, six years ago his collaboration with Lil Jon & Ludacris, 'Yeah!', held the pole-position for eight weeks." GWC










| | |
| --- | --- |
| Written By: Ry | |
>USHER IS A LEGEND! Here is BillBoard.com report:


Usher will up his Billboard Hot 100 No. 1 count to nine as "OMG" is set to move to the top of the chart

to be released tomorrow morning (May 6)."OMG," which features vocals by will.i.am, lifts 6-1 in its fifth week on the chart, prompted by equal 35% increases in both radio impressions and digital download sales, according to Nielsen BDS and Nielsen SoundScan, respectively. The track is the Airplay Gainer for a third straight week (up 18.5 million listener impressions to 71.8 million, rising 14-7 on Radio Songs) and claims the Digital Gainer crown for a second straight frame (up 57,000 to 217,000 downloads to lead the Digital Songs list).

Since Usher first led the Hot 100 on Valentine's Day week 1998 with "Nice & Slow," no other artist has outpaced his No. 1 production. Mariah Carey and Rihanna have the second-most chart-toppers in that span with six each. Usher last held the No. 1 spot for three weeks in March 2008 with "Love in This Club," featuring Young Jeezy.On the Billboard 200, Usher's sixth studio set "Raymond vs. Raymond" dips 5-6 with 48,0000 units (down 8%). The album became his third consecutive No. 1 debut when it entered the list four weeks ago.
Traduction après Read More
Usher vient de décrocher son 9ème numéro 1 aux Etats-Unis grâce à sa collaboration avec Will.I.Am! Il reste ainsi l'artiste avec le plus de numéro1 aux Etats-Unis depuis 1998!
Usher est une légende du R&B!Il n'y a rien à rajouter!
Usher

| | |
| --- | --- |
| Written By: Ry | |
>Keep on requesting Usher's songs on radio!





iTunes' top 10 selling singles and albums of the week ending May 3, 2010:

Singles:

1. "OMG (feat. will.i.am)," Usher
2. "Airplanes (feat. Hayley Williams of Paramore)," B.o.B.
3. "Break Your Heart (feat. Ludacris)," Taio Cruz
4. "Your Love Is My Drug," Ke$ha
5. "Young Forever (feat. Mr. Hudson)," Jay-Z
6. "Nothin' On You (feat. Bruno Mars)," B.o.B
7. "Hey, Soul Sister," Train
8. "Rude Boy," Rihanna
9. "Need You Now," Lady Antebellum
10. "Eenie Meenie," Sean Kingston, Justin Bieber

Albums:




1. "B.o.B Presents: The Adventures of Bobby Ray," B.o.B

2. "Fever," Bullet for My Valentine

3. "Glee — The Music, the Power of Madonna," Glee Cast

4. "Need You Now," Lady Antebellum

5. "Revelation," Sons of Sylvia

6. "Punk Goes Classic Rock," Various Artists

7. "Raymond v Raymond," Usher

8. "Fearless Love," Melissa Etheridge

9. "The Fame Monster (standard)," Lady GaGa

10. "Animal," Ke$ha
| | |
| --- | --- |
| Written By: Ry | |
>
Here is digitalspy report:

"Usher and will.i.am have climbed to the top of the Irish singles chart with their collaboration 'OMG'.
The pair beat off competition from the Glee cast, who take second place with their cover of Madonna's 'Like A Prayer'."
OMG,"OMG" is already a worlwide hit…despite a lack of promotion.Speachless…it looks like the simple fact that Usher and Will are on the same track is enough to sell records… congrats to Usher & Will I Am.
Selon Digital Spy, Usher et Will I Am ,viennent de décrocher un nouveau numéro un en Irlande , après l'Angleterre et la Nouvelle Zélande.
La vitesse à laquelle OMG devient un hit international, est quand même surprenante,comptes tenus du fait que Usher a pour ainsi dire disparu des médias depuis la semaine de sortie de l'album.A croire que les seuls nom d'Usher et Will I Am suffisent à vendre des CDs.
| | |
| --- | --- |
| Written By: Ry | |
>
RAYMOND Vs RAYMOND IS OUT TOMORROW IN THE UK!GET YOUR COPY THIS ALBUM IS REALLY AMAZING!
Usher a recemment révélé qu'il trouvait la chanteuse anglaise,Cheryl Cole très jolie: "Will I Am me parle tout d'elle et d'à quel point elle est jolie.Elle est jolie" "Je vais demander à Will de nous mettre en contact.Elle est mignone!"UsherRaymondBlog
Usher a également déclaré qu'il ne serait pas contre la collaboration qu'Amy Winehouse lui aurait demandé, il y a quelques semaines.
"It sounds like Cheryl Cole has yet another US superstar admirer. Usher, who's riding high in the charts right now with his album Raymond v Raymond, admitted this week he's hoping to hook up with Cheryl – thanks to his buddy will.i.am of the Black Eyed Peas.UsherRaymondBlog
Usher reveals: "Will's always talking about her, and how beautiful she is. She is beautiful!
"I'm going to have to reach out to Will and tell him to put "s two together. She's cute!" Usher also says he hopes to work with Amy Winehouse. "Our people have gotta speak!" he added. Over to you Amy."

Mirror.co.Uk

FanFusion.org && Fanzoom.net